Grace International School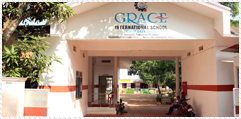 Grace international school aims to be an institution of excellence, dedicated to producing leaders of the future. The grace international school provides top quality education in international settings. It is an English medium institution where students are empowered in their learning and encouraged to respond to new situations in a creative and flexible manner. Grace strives to provide the best possible facilities to its students, including a highly qualified teaching faculty, with the ultimate aim of providing an education of the highest order.

One of the top schools in Kollam district provide quality oriented education, based on CCE under CBSE Syllabus. A wide range of activities aimed at the all-round development of each child takes place in the school. They include elocution, recitation, coloring, painting, drawing, quiz, dramatics, debating, athletics, picnics and exhibitions. These activities foster the spirit of participation, leadership and healthy competition, and the development of sterling character. Every effort is made to promote reading habits among the students. Grace International School enables every student to grow in to an integrated personality having traits of character, leadership and citizenship.